So you want to buy or sell a motorcycle.
Let's be clear about having a proper bill of sale.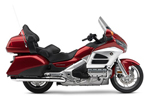 If you want to safeguard the deal, you need a motorcycle bill of sale that will clearly state the details of the motorcycle that you are buying or selling.

You can't actually register a motorcycle without a proper bill of sale, and most states require a title, as well.
Check with your local DMV.

A motorcycle bill of sale should mention year, make, model number body style, VIN, and engine number, and the specific details about the odometer reading.
Motorcycle Bill of Sale Form
Look at a motorcycle bill of sale form to see what you need.
A slip torn from a generic receipt book surely will not do.

The one you will print will be an exceptionally clean version of the form.

Click here or click the miniature image below to download a full sized Motorcycle Bill of Sale .