Boat Bill Of Sale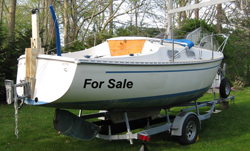 So you want to buy or sell a boat.

You are going to need about having a good bill of sale.

Some generic sales slip for a receipt will usually not do at all.
If you want to be sure of the deal you need a boat bill of sale to clearly state the details of the vessel that you are buying or selling.

You can't really register a boat with a motor without a proper bill of sale.

Call the RMV first to be sure what you need for your state.

A boat bill of sale should mention year, make, model number body style, VIN, and engine numbers.

Most states require a small boat with an outboard motor to be registered even if you only use the motor occasionally.

Take a look at our boat bill of sale form to see the details on the form.
The one you will print will be a really nice clean version of the form.
Click here or click the image below to download
.